Contents
How do I measure my head size?
A tape measure is needed to take an accurate measurement. If you don't have a tape measure, you can use a piece of string instead, then measure the length of the piece of string against a flat ruler. Take all measurements in centimetres (cm).
A head size is the circumference of the whole head. Position a tape measure all the way around your head following the line of your eyebrows to the tops of your ears.
A second measurement of the depth of the crown is also useful for some hat designs. Take this measurement vertically down the back of your head. Start at the centre of the hairline above your forehead and measure down to the base of the back of your skull.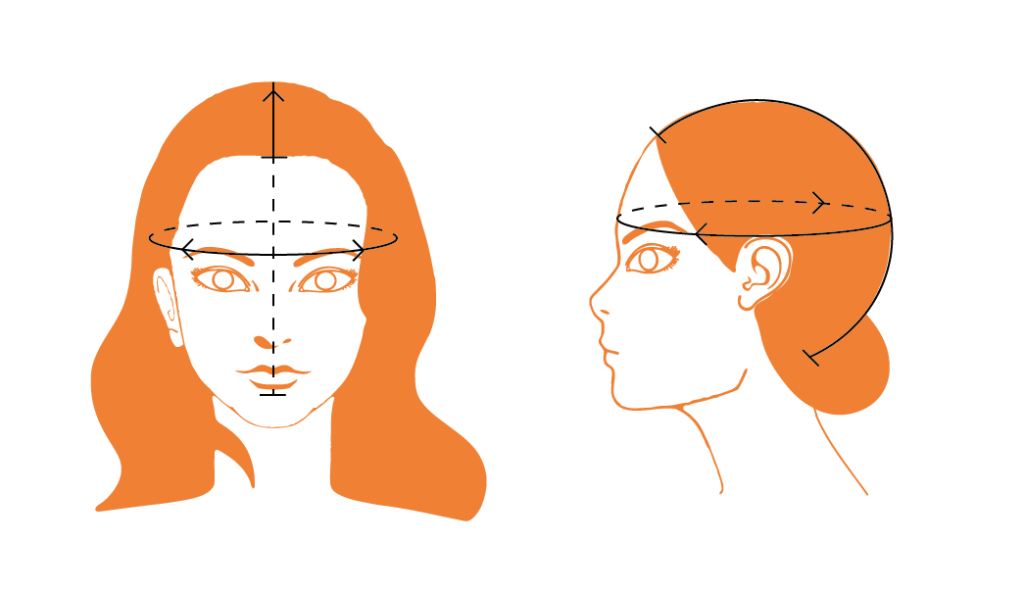 My Hair colour isn't listed, what should I do?
If your hair colour isn't listed, it means I can't get the hat fastening supplies in that colour. Not to worry though! Just pick the colour that is most likely to disappear into your hair, eg for blue hair pick silver, or for auburn or red hair pick brunette.
How does a hat attach to the head?
Different styles of hat will have different methods of fixing to the head. A clear comb at the centre front is a popular fixture in calot half hats. Lightweight hats attach well with elastic to match hair colour. In addition to those I sometimes add netting ribbon. Insert two crossed bobby pins through the netting ribbon for an extra strong hold. This is a common method used in theatrical millinery to make sure that the hat stays where it is put.
How should I store my hat?
Keep your hat in a box – this keeps it free of dust, and the darkness protects any dyes from fading. Use tissue paper to support the inside shape of your hat. If your hat is velvet, take extra care in making sure that nothing is pushing down onto the hat surface, as this can dent and crush the velvet pile.
How should I care for my hat?
Don't wear any hats out in the rain! If you do, the hat can get misshaped, and some dyes might run onto your skin. If you get caught out and your hat does get wet, make sure it is fully dry before storing it back in its box.
Do not wash your hat! It will not keep its shape after washing.
A wool felt hat can be bushed with a lint roller if it gets dusty.
Sometimes when a hat is worn forwards on the head, foundation makeup can build-up on the ribbon inside the hat. If this is a problem, and you have some sewing skills, you can unpick the ribbon out of the hat, give it a gentle hand wash in cold water, let it dry and sew it back in. Alternatively you can sew in a new ribbon.
A similar thing can happen with hair product build-up on the clear combs. Use a warm damp cotton pad to wipe any hair products off the comb.
Do you ship internationally?
At the moment, I only ship within the UK. I am working on expanding shipping into Europe and the USA. If you would like to order a hat and have it delivered outside the UK, please email me before placing an order.
Why a

re hats so expensive?
The price of a hat is made up of several factors. The obvious cost is the materials, but a hat does not assemble itself! Hat making is a very time consuming process, especially when hand stitching without the use of glue. Essentially, when you buy a hat, you are buying a luxury couture-style item, that has been handmade with care and expertise with many hours of work put into it.
How long doe

s it take to make a hat?
On average, it can take me up to 20-30 working days. This includes time to buy extra supplies if I run out. Once I have all the supplies, I will "block" the hat base to give it a shape. "Blocking" is the process of steaming, pulling and stretching a base material over a 3d wooden or plaster object to shape the base of a hat. The hat base will need to fully dry before covering in fabric and trims. Sometimes I also hand make the trims, such as silk flowers. This adds more time to the hat making process.
How much is a b

espoke commission?
I offer "bespoke customisations". Please email me on hello@byilona.co.uk to discuss your ideas. Customisations are charged at £37 per change excluding any additional material costs. Certain customisation fees may be waived at my discretion if they are deemed insignificant to the overall cost of the hat. Customisations are not always possible on every hat model.
Quotes are not final until they are received as an official invoice containing the agreed upon specification. Please see my terms & conditions for additional information.
What are the various hat sha

pes that you make?
I make a variety of different hat shapes. I specialise in calot half hats, and oval pillboxes. You can see these shapes and others in my lookbook and hat shapes shop pages. Please note that I am not able to reproduce all the different shapes of hats in my lookbook, as I may no longer have the corresponding blocks. If you are looking for a completely customised calot half hat shape please contact me about a bespoke commission.
Does it matter if my hat is natural silk or polyester?
Yes and no. These days even cheep modern polyester can be made well enough to mimic the look and feel of natural silk. However the production processes involved in making polyester are harmful to the environment – as polyester itself is a plastic. Polyester is also not very nice to work with when sewing. Keep in mind that the quantities of fabric used in hats tend to be quite small, so it is always worth wile opting for a natural silk or cotton fibre; especially as this won't affect the final price in a meaningful way.
What are buckram and Paris net materials?
Buckram and Paris net (also know as Dior net) are traditional hat base materials. They are made from cotton which has been stiffened to various different strengths. Buckram is solely a foundation material, and is great to use for hats that will be covered and lined; such as calot half hats and pillboxes.
Paris net is used as a soft foundation for turbans, and traditionally isn't lined. Because of its softness and flexibility it is very easy to pack for travelling.
What are sinamay and jinsin materials?
Sinamay and jinsin are modern millinery materials. Sinamay is made exclusively using abaca tree stalks, a banana palm native to the Philippines. It is an eco-friendly and sustainable crop that tends to be processed by hand without the use of fossil fuels.
Jinsin is made using the stalks of the buri palm, also native to the Philippines. The nature of the buri palm means that it has to be harvested by hand. The palm fibers are interwoven perpendicularly with synthetic thread. This produces an interesting effect when the jinsin is dyed, as only the buri palm part of the material holds dye, leaving the synthetic threads a different colour. The fusion of mixed fibers means that jinsin can be shaped by hand into unique shapes that can't be achieved with such ease using other materials.
Where do you buy your supplies?
I have a long list of different suppliers. I try to buy various trimmings vintage or second hand. This doesn't affect the quality of the final hat, as in some cases vintage haberdashery items can be better quality than modern made counterparts. I also try to buy fabric locally from suppliers in central London, or from factories around the UK. If you are thinking about purchasing a specific hat, and would like to see the list of suppliers for that hat, please get in touch via email.
Do you fulfill whole sale orders?
Yes! Please get in touch to ask about my whole sale prices. The minimum order quantity for whole sale orders is 5.
Do you only make hats and accessories?
I love to make hats and headpieces, but I also make dresses. I don't make them for sale, however I do teach pattern making along with basic sewing machine skills. The pattern making method I prefer is a formula based flat pattern making method – meaning that you determine your body type along with any individual characteristics, and follow a set of mathematical formulas to build a 2D pattern block. Once you have your basic block you can make any dress you like out of it knowing that it will fit you perfectly every time. If you aren't mathematically inclined, don't worry, I keep all the formulas in a spreadsheet that will automatically give you all the values you need to draw out your block. Contact me via email for more information or find some tutorials here. I am still working on creating spreadsheets with formulas for all body types.
Last updated: 11 January 2023